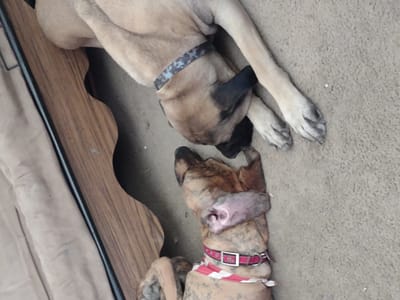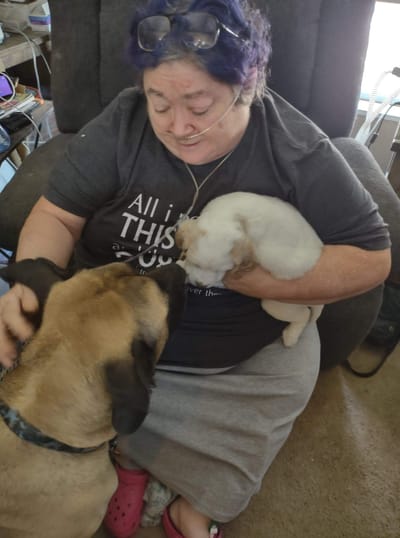 Hi!

Update to the Update!! I have a new home, not far from Kim. I met my new mom and her son and we got along perfectly. She took me for a very short walk and I behaved well, until Kim wanted me to go back in the car. It was a bit crowded with the puppies in their crate there.

I will be going to my new home this week, weather pending. I hear my mom has an elevated food and water area for me, I get to get on a huge couch with her and in the recliner and bed if I want. And there are lots of people around that I can visit and hopefully make lots of people friends with. I'm not sure about floof friends, but being the only pup in the house and getting all the attention will be just fine with me! I don't play much so that works out great.

Update, I have an adoption pending. Now that Thor is adopted again, I am the only big dog here.
From what Kim tells me, I think I am gonna like my new friend. If things don't work out, I will let everyone know. Thanks!

My name is Zena, I am a smallish English mastiff. I was adopted by a couple back in April, and boy have I changed! I had a couple of buds before, but now I live with 5 other dogs and 2 English Setters pups. Unfortunately, my new mom and dad were in a car accident and did not make it. Since PPRS helped me get to my current home, they are charged with finding me a new home. So, let me tell you about me.

I am very sweet, low keyed, very responsive to your emotions, I am not a big barker. I like car rides, walks, I don't play with toys much, but do play with other dogs a bit. I like to give and get attention, but don't but in if another dog is getting it. I used to be partial to men from my previous owner, but seem to gravitate towards women at this time. I was very shy with new people but now I am very outgoing. I also learn new routines easily. Not a fighter, but definitely a lover. Not a high energy girl, but can keep up on a walk or maybe even a short jog or bike ride.

Kim, from PPRS, thinks I might make a good ESA or Service dog since I will lay at your feet, give kisses, and just snuggle when I notice emotions are high. Kim was stressed when she came to see me so I gave her extra loves, even though she had her pack with us for a few days. Kim says she will also be contacting trainers and other facilities to see if her instincts are right and I can help someone through their hard times.