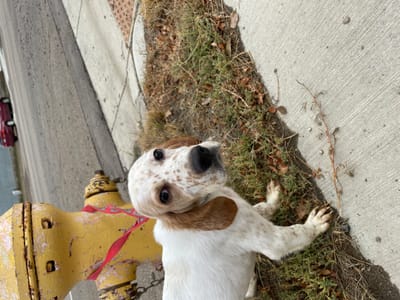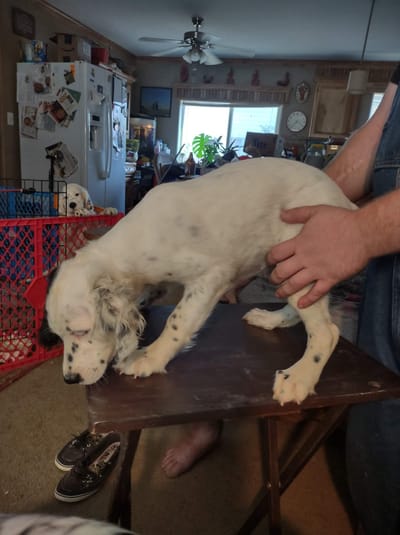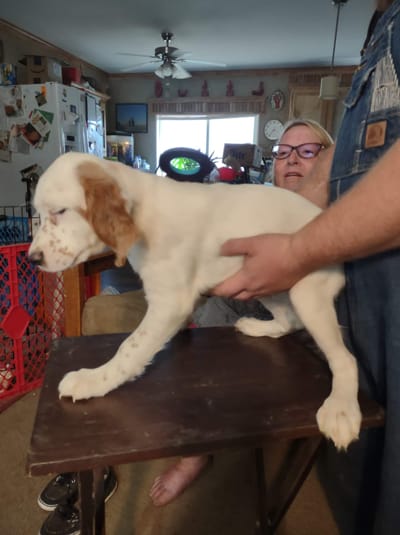 Ok, so we are not a giant breed. We are English Setters!

We are now about 7 months old and there are two of us that are available to become your hunting dog or pet. Mom and Dad are available for you to see and both are registered. Dad is white with lots of black speckles, lean and very friendly. Mom is white and red, with fewer speckles. She is trained as a hunter. We are both microchipped, UTD, and have been well socialized with both other dogs around us and we gravitate to our humans for pets and cuddles.

Growing fast and needing some basic training since our Mom and Dad just passed and we need new homes!

The two of us can go separately or as a pair as we are fairly well bonded and hate being separated from each other. PIcs will update as needed. Trouble, the red and white pup, does have a kink in his tail, but it still works to flag for hunting. He is friendly and anxious for attention, but is fine when left with his brother BoBo, the black and white pup. BoBo is about the same but they do have different personalities, as BoBo is a bit more laid back in general. They are both starting to have the typical lean bodies of an English Setter. Trouble is smaller, as in shorter, but BoBo is the bigger since birth. We are also crate trained, UTD and microchipped.

Please let anyone you know that is looking for a good bird dog about us. This will be posted in several sites, especially for the breed and bird dog sites.