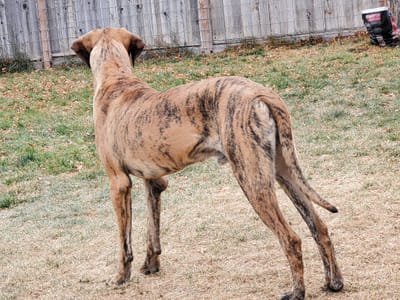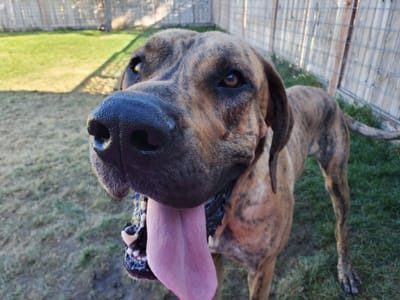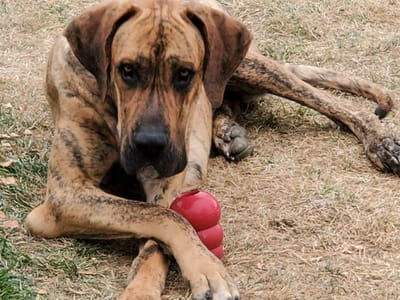 Hi!

My name is Thor. It used to be Opie, but my new mom and dad did not think I was that goofy. But I am, because I am
just now almost 2 yrs old. I am a Daniff, half Mastiff and half Great Dane. I got adopted by a really nice couple that saw my potential thru my puppy antics. They thought I would make a great service dog. So, from the middle of Oct. 2021 til about the middle of Feb. 2022, I was in training. Then, they took me out on my first real job. They said I passed with flying colors! I did not get distracted, I sat when told and settled well without moving or going over across the hall to see what I could find. I walked beside my daddy with no issues. So now, instead of just playing with another dog in the yard and getting into trouble (I used to think farm animals and cats were just big toys for me to play with, but I admit now I might have been a bit rough on them), I have a job as a SERVICE DOG. That makes me feel very important. Of course I now have 4 sisters, 1 brother and 2 cats to play with. I know to be gentle with the cats now. I am so happy I could be the bestest dog I can be. Most of the time. hehehe, I still get into trouble but am learning some of my ideas dont work out so well.

Thanks Kim for bringing me to my mom and dad. Oh, and Uncle W.