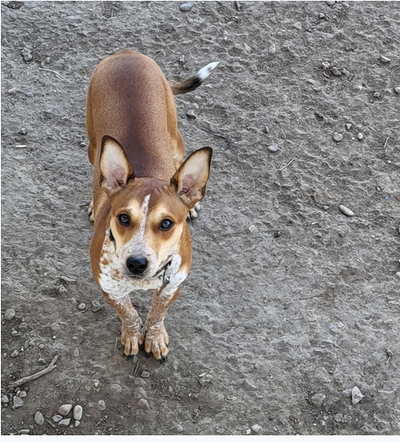 UPDATE!
I everyone! Guess what?! I found my people! I'm sure to have lots of fun and learn how to be the
best Rebel I can be. As soon as I get settled in, I'll give more info on how things are going and what is happening.
Ciao for now!

Rebel here and loving is my game! I love getting and giving attention. I am only 6 months old and am good with most other dogs, I kinda have to be.... no one knows what breed I am. So, being a heinz 57, I guess I have enough breeds in me to have me liked by a lot of other dogs. Besides, getting along with everyone else makes me so easy to have in a house that has other dogs. I am also good with kids, especially ones that like to play with me! I think I like a ball or bone tossed to play fetch, but who knows? Maybe I am a Frisbee champ in disguise? Or maybe I can jump tall buildings in a single bound? Probably not that unless they are made of blocks.

I don't bark a whole lot, but will let you know when someone is there. I have been in a crate and behave, but if the weather is good I would rather be outside. I am not sure about cats, I have not been too close to any. Deer. There are lots at my foster mom's house, but I don't try to get out of the fence to get them. My foster mom Becky is also trying to get me neutered before I am adopted. I'm not sure what that means, but I hear that most people like boy dogs that way. So, it sounds like a good thing and will make me even better than I am!

Let Kim know if you are interested in me and she will make an appointment for you to come and see how great I am! Hope to see you soon!