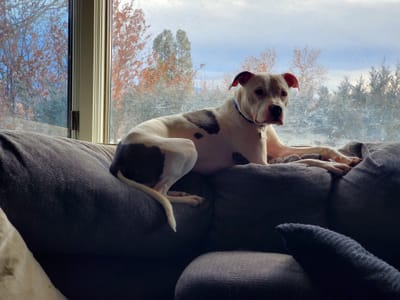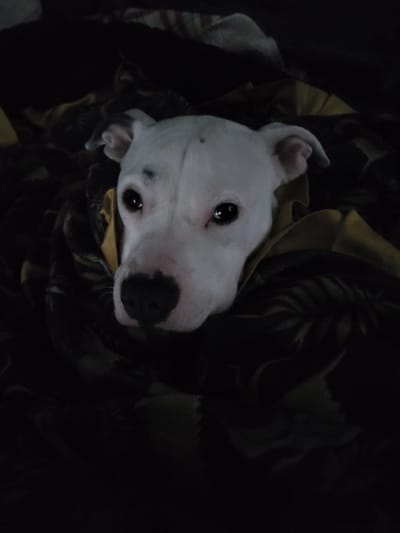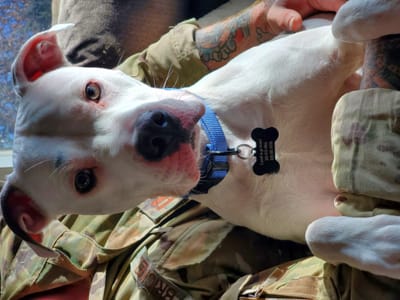 Hello?

Update!!:

Well, Ivar came back to PPRS. The family that adopted him was not truthful on the adoption application! Go figure, they did not own the home I did the home visit on, they moved to Washington state within 5 days of adopting ( the reason for the move was something that would take 30 days minimum to be forced, so either they knew when adopting Ivar this was going to happen, or they are way to uninformed despite FB, TicTok, and other social media sites you would find information on this)and with changing stories, they called and we got this sweet boy back. Nothing was his fault in retruning, it was poor choices on adoptive parents.

The good thing is that while he went through a lot of changes in a short time, and has proven to be remarkable in his resiliency in not only bouncing back, but is not nearly so shy! The night I got got the call about his old fam, I got a call from someone that is now boarding/fostering him. Ivar does enjoy car rides now, as he was my co-pilot on the way back home. His walking skills on a leash are wonderful and he enjoys them. Also great off leash in more rural areas. Discovering deer was a new experience, I think he thought they were big dogs and wanted to play. He also has a reservtaion dog gal to play and pal around with and is blooming into quite the cutest cuddler and all around showoff! He also has a ragdoll cat housemate. Not as great a match at this time but it is something that we will work on to make sure will be a great success. It will take time as their first encounters were great, but after a few days did not go great. They have both been put in their own corners to chill and the INTEGRATION process will start over in a different way. We have great expectations that both will figure out they can ignore each other and co-habitate nicely. If we can do so, this will probably be a foster to adoption, the best foster fails!!
**************************************************************************************************
Wow! That was so fast!! Hi, Sir Ivar here to give you the latest........I got adopted!!! I have a mom and dad that is home taking care of my brother! He is 2 too! He is very nice and I am learning to play with him and the rest of my family. And guess what? I'm not shy anymore. I greet people with tail wags and kisses. I miss my previous family, but this one is awesome too. I go outside on a leash without fear, I even went to the sidewalk (house is a ways back off the road so I have a huge front yard to explore. I even kinda like going for rides in the car. I even sat on the front seat while waiting for mom and take a short snooze. That way dad and I have the doors covered for security. I am having so much fun learning and being around new things. Oh, everyone thinks I am so cute and wonderful.

My name is Ivar, after the viking. I'm 2 yrs old, UTD, crate trained, and housebroken. I weigh about 50 Lbs. I like most other dogs, but a slow introduction is best. I am really quite shy when you meet me. I'll stay by mom and dad and come closer to sniff you then walk away. If you bring me french fries, I love those and will eat them when offered and back off till we know each other better. I like my toys, and take the squeeker out most times.

I live with other dogs and get along with most of them. One of the dogs is a service dog in training. The one I have issues with is a male German Shepherd. Since my substitute mom passed a while ago, he and I don't get along so well and it is upsetting the doggy dynamics and making the service dog goof up...... a lot. So the trainers need her to concentrate and she does not do that with me there. And even more embarrassing is that no longer have all my boy parts! I try to make up for that by doing what mom and dad tell me to do . I like to greet dad by jumping into his arms when he comes home.

I would like to find a home with other dogs, but we need to all get along. I do like girl dogs. And I would love to have a hooman to stay home a lot and give me lots of loves so I can love them.

I come with my crate and some blankies that will smell familiar to me in a strange place. It will probably take longer for me to adjust to your house and rules, but I am smart and will do the best I can.

Please come and get me, I'll try to be ready for you.