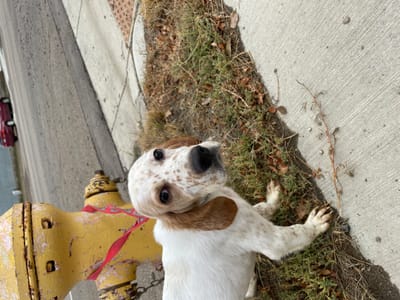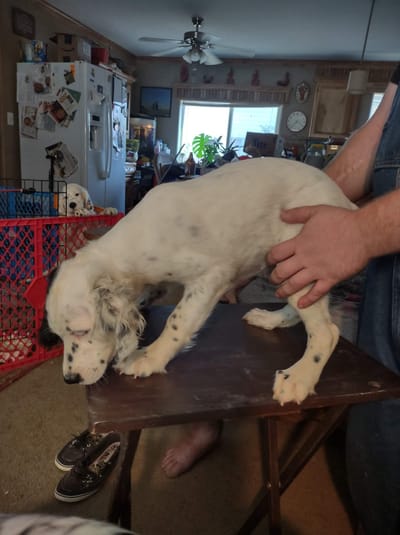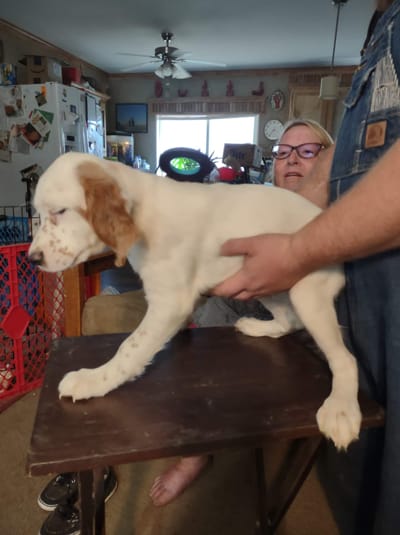 Ok, so we are not a giant breed. We are English Setters!

UPDATE: 12/16/22
Hey guys! Boy did we hit the jackpot at our new home. Not only do we have a new mom and dad, but we have our very own boy to play with! AND we got to go to the same home!! They have 100 acres to play on, well, when it gets warmer out. We go do perimeter checks when we can. We are now doing so well, getting some training. Maybe we can learn how to catch a frisbee, and show everyone where birds are. We think they would like to watch them rather than hunt, but that is ok. They are building a house there so there will be lots of activity when it is warmer. Well help them build it and tell them what we want so the house is ours too.

Adopted!
We are now about 7 months old and there are two of us that are available to become your hunting dog or pet. Mom and Dad are available for you to see and both are registered. Dad is white with lots of black speckles, lean and very friendly. Mom is white and red, with fewer speckles. She is trained as a hunter. We are both microchipped, UTD, and have been well socialized with both other dogs around us and we gravitate to our humans for pets and cuddles.