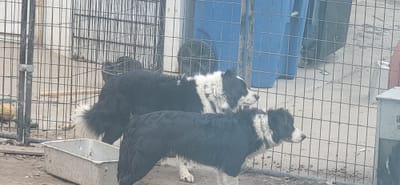 HELLO, OOO, oooo! My name is Echo! I am 2.5 years old and very well behaved. I walk well on a leash and can even go off leash after I get to know you out on walks out of town or especially in the woods. I can be in a crate, but I would rather be near you all the time. Not velcro, just in the same room doing my thing if you are busy. I get along great with most other dogs, but have not really been near enough to a cat to know if we can be friends or not. I know about deer, but not close enough to them either.

Oh, in case I forgot, since there are two of us in the picture, I am a Border Collie. So I am smart. I can learn just about anything if you take your time to teach me. I will be neutered and up to date on vaccines too. I love chasing or playing fetch with a ball, or run next to you jogging or on a bike.
In fact I could probably loose a couple pounds, but I am really fluffy too!

Let Kim know if you want to visit with me and take me home. My foster mom will show me off for you by appointment. I can hardly wait to meet my new family!