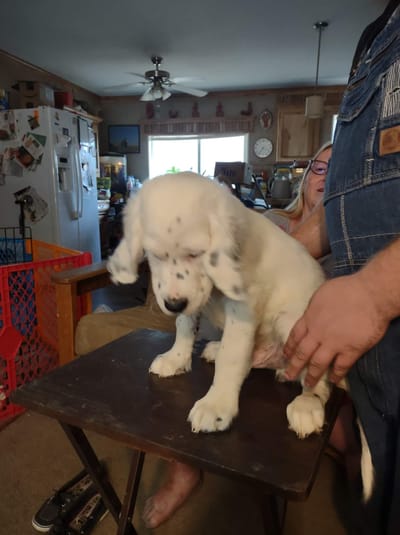 Ok, so we are not a giant breed. We are English Springer Spaniels!!!

We are now 9 weeks old and there are two of us that are available to become your hunting dog or pet. Mom and Dad are available for you to see and both are registered. Dad is white with lots of black speckles, lean and very friendly. Mom is white and red, with fewer speckles. She is trained as a hunter. Potty training has started and we are up to date on all vaccines and we are even micro chipped! We have been well socialized with both other dogs around us and we gravitate to our humans for pets and cuddles.

The two of us can go separately or as a pair. There is a fee, part of which will be refunded after any spaying or neutering.

Since this is a Courtesy Posting, PPRS will verify all adopters and verify all info on applications.