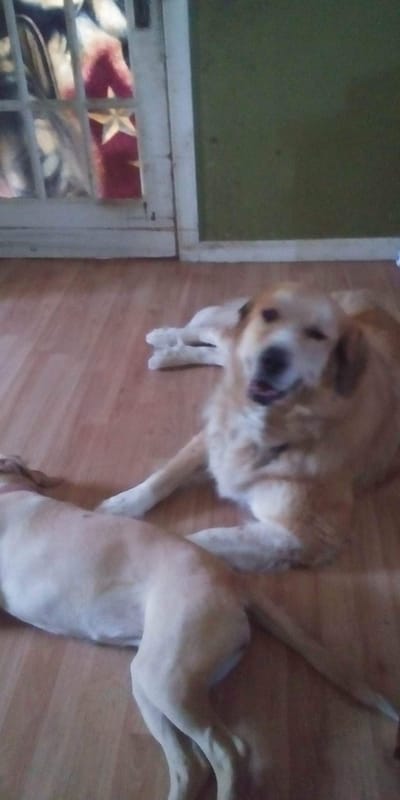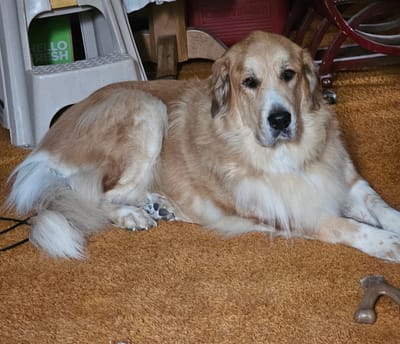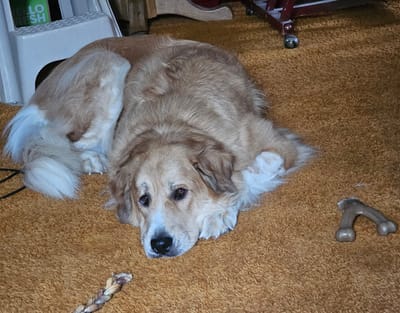 Hi everyone!

I'm Bonnie and I think I'm so pretty. Well, right now I could loose a few pounds, but still my coat is so fluffy it is hard to tell.

A bit about me: I am a mix of I think St. Bernard and maybe a bit of collie. That explains my fluffy coat, but not really my golden color. Maybe there is some Golden Retriever in me somewhere??? Anyway, I am about 3.5 years old and 1.5 yrs ago I had a repair to my ACL. That is one reason for me to be maybe just a couple lbs thinner than normal. I love going on walks, for car rides, or just hanging at home. I do enjoy giving and getting affection. I may not be a snuggle bug tho. I have been in a couple of homes and am pretty good at supporting my family when someone is a bit down or is having trouble. I try not to get in your face, but sometimes it needs to be done.

Kim said she will make sure I am UTD on vaccines, and I am also spayed, crate trained (I really never need it), housebroken, great with other dogs. I just ignore them if they are pesky. I like kids that are great around dogs and I do tolerate those that are not, but they do test any dogs' patience!. Oh, I am used to a doggy door as well. I like to sleep in a bed next to you on the floor, I don,t get on the furniture too much. Since my coat is so thick, it can get matted easily if I am not brushed often. I am patient and like being brushed when I don't have mats, they hurt!

I think I would like a home with other dogs, they are fun to play with. But if I am an only dog that is ok too. Like I said kids are fine, but please don't let them pull my ears or tail or tease me. Even if they do, I will just walk away and learn to ignore them. I don't bite or growl. A lady behaves better. I do have some experience in being trained for ESA or service dog, but was just getting started before my ACL went out. So it has been a while.

I am currently in Rudyard, but might be able to make a trip to Great Falls with mom and dad if we are headed there. I hope you are my new person or people. See ya soon!