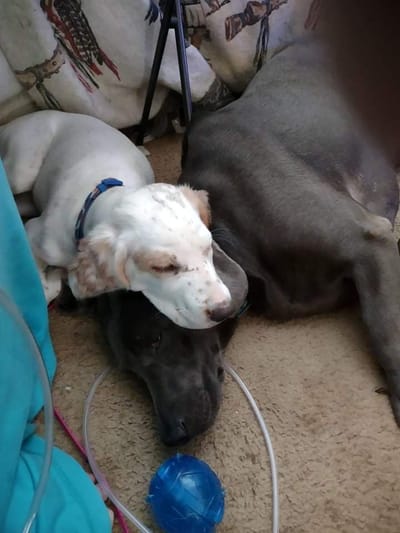 HI,

OMG! I have a great new home. It is on 12 acres! I don't know if my legs will let me explore that much at one time. My new mom and dad already had 2 dogs, so I still have some company. One is a young dog, and boy does he like to play. The other dog is about 10 yrs and does not always want to play due to arthritis. But, I love to play! And they have so many balls for me to chase. I may have only one eye, but sometimes I find it before my brothers do.

And would you believe that on the day I got adopted out that my blind eye started giving me some troubles? The vet (he is real nice and patient with me) thinks I may have glaucoma and probably need to have my eye removed. But my new mom is ok with this and still loves me! I think I hit the jackpot!

I'll let y'all know if I need surgery or not. Toodle OOOOO!

I'm Bella (means beautiful if you did not know). And I am very pretty with my grey coat. I am a weimaraner and basset mix. My ears are weimar, my legs are longer in back but front legs look like a long legged basset! I was born with one eye blind, sometimes it is white-ish but there is no pupil. That does not stop me from being active and playing fetch. I would chase a ball all day if I could! Oh, I almost forgot that I am about 10 yrs old too. I still feel like a puppy most the time.

I am up to date on vaccines, spayed and micro-chipped to boot! I'm looking for a family that is active but not on the go 24/7. My legs can't keep up. And I am on a diet to get my girlish figure back, so slowly increasing walks or even a short jog or bike ride would be nice. I am loving and like to get pets and snuggle. If you have another dog, great! I promise not to be too jealous. If not, then you can have me all to yourself!

I hope I hear from you soon.... Bella.